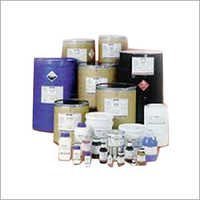 Methyl Amines ( Mono, Di & Tri )
Product Description
We, Jaysons Chemical Industries, are a well recognized manufacturer, supplier, trader and exporter of highly efficient Methyl Amines (Mono, Di & Tri). This has longer shelf life and precise pH value which is attained by using certified compounds in the preparation. We perform stringent quality tests to match the set industry standards and provide our clients the best product. Also, the Methyl Amines (Mono, Di & Tri) is available in Capacity: 50 kg, 40 kg, 60 kg., 10 kg. & 5 kg., 400 kg. Tonner.
Technical Details:
| | |
| --- | --- |
| Vapor Density | 1.07 (vs Air) |
| Vapor Pressure | 280 Mmhg ( 20 °C) |
| | 659 Mmhg ( 40 °C) |
| Autoignition Temp. | 806 °F |
| Concentration | 40 wt. % In H2o |
| Refractive Index | N20/D 1.37 |
| Bp | 48 °C |
| Density | 0.897 g/Ml at 25 °C |
Safety Information:
| | |
| --- | --- |
| Hazard statements | H225-H302-H314-H331-H335 |
| Precautionary statements | P210-P261-P280-P305 + P351 + P338-P310 |
| Personal Protective Equipment | Faceshields, full-face respirator (US), Gloves, Goggles, multi-purpose combination respirator cartridge (US) |
| RIDADR | UN1235 - class 3 - PG 2 - Methylamine, aqueous solution |
| Flash Point(F) | 14 °F |
| Flash Point(C) | -10 °C |
Further Details:
Used as raw materials, Methylamines synthesize many different chemical intermediates used to manufacture or improve items that come into people's day-to-day lives. They are colorless, clear gases available as aqueous solutions or as liquefied compressed gas. Methylamines are highly flammable, and may cause chemical burns to the skin & eyes. Also the vapors are very irritating to the skin, eyes, nose, throat & lungs.

Usages:

Agricultural Chemicals

Methylamines are used to manufacture intermediates for a variety of agricultural chemicals, including fungicides, insecticides, herbicides, biocides & miticides.

Animal Nutrients

Trimethylamine (TMA) is used in the choline chloride production, and a B vitamin supplement in animal feed for chickens, swine & turkeys.

Catalysts

Methylamines are used directly as raw materials or catalysts to bring forth other compounds with catalytic activity.

Electronics

Dimethylamine and benzyl chloride are used to produce benzyldimethylamine, which is used as an accelerator for epoxy resins in electrical equipment laminates.


With easy and safe handling, water gel are utilized in mining industry.

Fuel Additives

Fuel additives are used in a variety of ways to improve engine performance.

Gas & Oil Treatment

Alkylalkanolamines have a wide use in natural gas and oil treatments.

Paper Chemicals

Trimethylamine is used for paper chemicals, such as its reaction with epichlorohydrin to form 3-chloro-2-hydroxypropyltrimethylammonium chloride as well as the epoxy product glyciditrimethylammonium chloride.

Personal Care

There is growing use for methylamines as raw material in the personal care industry.

Pharmaceuticals

One of the most diverse methylamines use is: manufacture of pharmaceuticals intermediates.

Photographic Chemicals

P-methylaminophenol sulfate is utilized as a photographic developer, and is made with monomethylamine to supersede an hydroxyl group on hydroquinone.

Resin Manufacturing

Methylamines are utilized for resins manufacturing for water demineralization & deionization.

Rocket Fuels

1,1-dimethylhydrazine is applicable as a propellant for booster rockets.

Rubber Chemicals

Dimethylamine is used in various rubber industry applications.

Solvents

Solvents have the largest use for dimethylamine (DMA), and growing utilization for monomethylamine (MMA).

Surfactants

Surfactants are used to make soaps, detergents, shampoos, and other specific wetting applications.

Water Treatment

Dimethylamine is utilized as raw material to make agents that separate suspended solids for water clarification in municipal raw, potable, waste-water treatment plants and industrial.
CAPACITY : 50 kg, 40 kg, 60 kg., 10 kg. & 5 kg. 400 kg. Tonner

Contact Us
801, 8th Floor, Peninsula Park, Plot No. A-4, End Of Veera Desai Road, Andheri West, Mumbai, Maharashtra, 400053, India
Phone :26736900/26735252/6800/6900